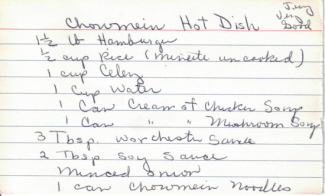 This recipe was found in a box of old recipes won at auction, date unknown. There is a note in the top corner that says "Very Very Good", so it must be!
Chowmein Hot Dish
1 1/2 lb Hamburger
1/2 cup Rice (Minute uncooked)
1 cup Celery
1 cup Water
1 can Cream of Chicken Soup
1 can Cream of Mushroom Soup
3 Tbsp. Worcestershire Sauce
2 Tbsp. Soy Sauce
minced onion
1 can Chowmein Noodles
Brown meat & onions & put all ingredients together except noodles. Put in greased casserole, Bake 1 hr. then add noodles – Bake 30 min. more.
More Recipes For You To Enjoy: