This promo recipe from Pet-Ritz was clipped from packaging of some kind and found in a large collection, date unknown. I've typed it below along with a scanned copy.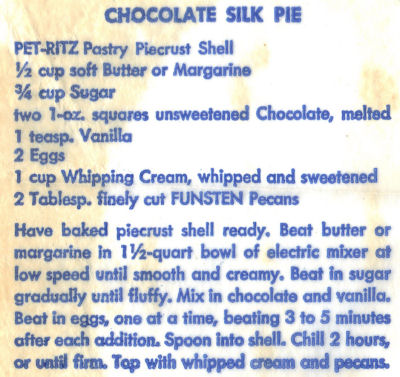 CHOCOLATE SILK PIE
PET-RITZ Pastry Piecrust Shell
1/2 cup soft Butter or Margarine
3/4 cup Sugar
two 1-oz. squares unsweetened Chocolate, melted
1 teasp. Vanilla
2 Eggs
1 cup Whipping Cream, whipped and sweetened
2 Tablesp. finely cut FUNSTEN Pecans
Have baked piecrust shell ready. Beat butter or margarine in 1 1/2-quart bowl of electric mixer at low speed until smooth and creamy. Beat in sugar gradually until fluffy. Mix in chocolate and vanilla. Beat in eggs, one at a time, beating 3 to 5 minutes after each addition. Spoon into shell. Chill 2 hours, or until firm. Top with whipped cream and pecans.
More Recipes For You To Enjoy: