This vintage recipe was clipped from a newspaper and found in a large collection, date unknown but likely the 1960's based on the information on the back. I've typed it below along with a scanned copy.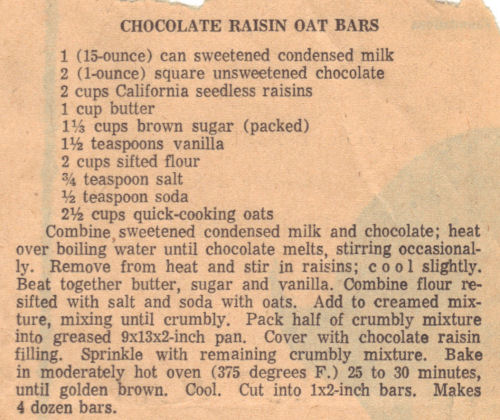 CHOCOLATE RAISIN OAT BARS
1 (15-ounce) can sweetened condensed milk
2 (1-ounce) square unsweetened chocolate
2 cups California seedless raisins
1 cup butter
1 1/3 cups brown sugar (packed)
1 1/2 teaspoons vanilla
2 cups sifted flour
3/4 teaspoon salt
1/2 teaspoon soda
2 1/2 cups quick-cooking oats
Combine sweetened condensed milk and chocolate; heat over boiling water until chocolate melts, stirring occasionally. Remove from heat and stir in raisins; cool slightly. Beat together butter, sugar and vanilla. Combine flour re-sifted with salt and soda with oats. Add to creamed mixture, mixing until crumbly. Pack half of crumbly mixture into greased 9x13x2-inch pan. Cover with chocolate raisin filling. Sprinkle with remaining crumbly mixture. Bake in moderately hot oven (375 degrees F.) 25 to 30 minutes, until golden brown. Cool. Cut into 1×2-inch bars. Makes 4 dozen bars.
More Recipes For You To Enjoy: