This promo recipe from Jell-O and Post Toasties was clipped from cardboard packaging of some kind, likely a box of the cereal. It was found in a large collection, date unknown. I've typed it below along with a scanned copy.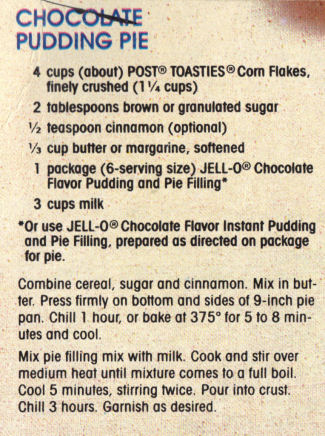 CHOCOLATE PUDDING PIE
4 cups (about) POST TOASTIES Corn Flakes, finely crushed (1 1/4 cups)
2 tablespoons brown or granulated sugar
1/2 teaspoon cinnamon (optional)
1/3 cup butter or margarine, softened
1 package (6-serving size) JELL-O Chocolate Flavor Pudding and Pie Filling*
3 cups milk
*Or use JELL-O Chocolate Flavor Instant Pudding and Pie Filling, prepared as directed on package for pie.
Combine cereal, sugar and cinnamon. Mix in butter. Press firmly on bottom and sides of 9-inch pie pan. Chill 1 hour, or bake at 375° for 5 to 8 minutes and cool.
Mix pie filling mix with milk. Cook and stir over medium heat until mixture comes to a full boil. Cool 5 minutes, stirring twice. Pour into crust. Chill 3 hours. Garnish as desired.
More Recipes For You To Enjoy: