This recipe was clipped from a magazine or newspaper and taped onto a white index card. The tape is very yellowed and brittle, date is unknown. Recipe is typed below along with a scanned copy (click to view a larger copy).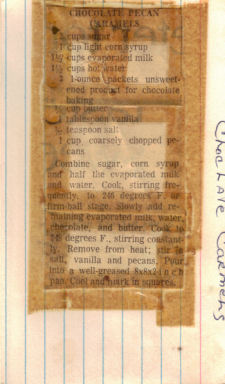 CHOCOLATE PECAN CARAMELS
2 cups sugar
1 cup light corn syrup
1 1/2 cups evaporated milk
1 1/2 cups hot water
3 1-ounce packets unsweetened product for chocolate baking
1/4 cup butter
1 tablespoon vanilla
1/2 teaspoon salt
1 cup coarsely chopped pecans
Combine sugar, corn syrup and half the evaporated milk and water. Cook, stirring frequently, to 246 degrees F. or firm-ball stage. Slowly add remaining evaporated milk, water, chocolate, and butter. Cook to 248 degrees F., stirring constantly. Remove from heat; stir in salt, vanilla and pecans. Pour into a well-greased 8x8x2-inch pan. Cool and mark in squares.
More Recipes For You To Enjoy: