This recipe was written on a lined index card and found in a large collection, date unknown. It's marked "Good" in the top right corner so it must be! I've typed it below along with a scanned copy (front side only).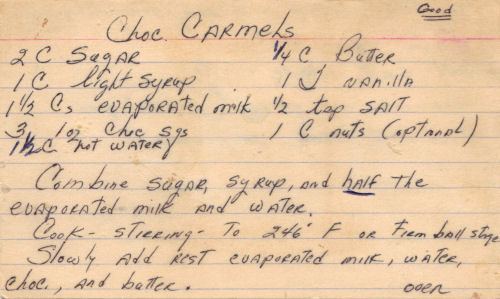 Choc. Carmels
2 C sugar
1 C light syrup
1 1/2 Cs evaporated milk
3 1 oz choc sqs
1 1/2 C hot water
1/4 C butter
1 T vanilla
1/2 tsp salt
1 C nuts (optional)
Combine sugar, syrup, and half the evaporated milk and water.
Cook – stirring – to 246°F or from ball stage.
Slowly add rest evaporated milk, water, choc., and butter.
Cook to 248°F – stirring constantly.
Remove from heat.
Add salt, vanilla, & nuts.
Pour into well greased 8x8x2″ pan.
Cool and mark in squares.
More Recipes For You To Enjoy: