A wonderful 23 page booklet that's stamped on the inside cover 1936. Walter Baker & Company, Inc. with candy thermometer order information on the back inside cover that expires December 31, 1940 (handwritten 1 over top the 0 in 40).
Looks to be a General Foods printing distributed by Walter Baker & Company, Inc. for Baker's Dot Chocolate.
Plenty of information in this booklet including how to make chocolate creams, chocolate fudges, caramels, taffy and butter crunch.
How to make fondant, how to dip chocolates, chocolate dipping secrets & more.
I've included the section for smooth fondant secrets below the following graphic: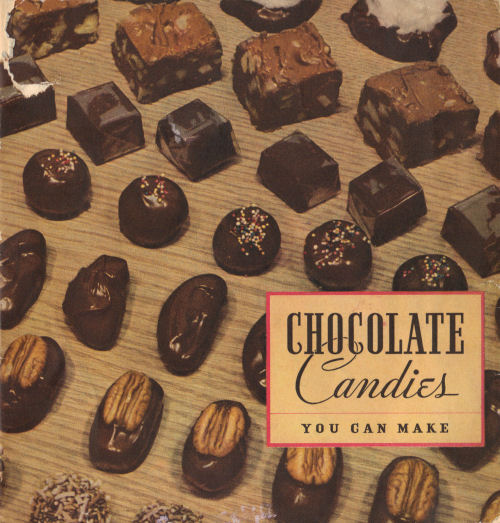 Secrets That Insure Smooth Fondant
Cook fondant without stirring. Stirring tends to spatter syrup on the sides of the saucepan. The syrup dries and forms crystals which may fall into the syrup and cause grainy fondant.
Cover syrup during first 3 minutes of cooking. The steam washes down any sugar crystals which may form on the sides of the saucepan.
Wash down sides of saucepan during cooking. This removes any sugar crystals which may form. Use a fork wrapped in a damp cloth and draw the crystals out of pan and away from surface of the syrup. Then dip cloth on fork in clear water to remove or dissolve crystals. Repeat this process frequently throughout the cooking period.
Cook to correct temperature. Overcooking produces fondant too firm and hard for satisfactory centers. Chocolate fondant cooks to a slightly lower temperature than water or cream fondant.
Cool fondant rapidly. The more rapidly fondant cools, the smoother it will be. Pour fondant out on cold wet platter, porcelain table top, or marble slab in thin layer, about 1/4 inch thick. Cool the surface used with cracked ice, removing ice and excess moisture before pouring syrup. Place platter on wire rack for circulation of air on all sides and for even cooling. Do not move fondant during cooling period.
Do not scrape saucepan after pouring syrup. Sugar crystals may get in the syrup and produce grainy texture. Simply empty the saucepan of all syrup that will flow readily.
Just how to work fondant. Work fondant with broad metal spatula or wooden paddle. Use a sweeping motion forward under edge of fondant and backward over surface. Turn platter from time to time to include all edges of fondant. If unworked fondant gets on back of spatula, scrape off with kitchen knife. Work until fondant is creamy white and of a consistency that can be picked up and kneaded in the hands.
To soften hard fondant. If fondant gets hard and crumbly during kneading, break off small piece and work with the fingers until soft and free from lumps; continue until all fondant is softened. Or cover with damp cloth for a few minutes; then knead in the hands. Sometimes the entire ball of fondant hardens rather suddenly during the early part of the kneading. This is due to change taking place in the fondant. It can be softened by persistent kneading of small amounts, as directed above.
Cool fondant before storing. This prevents the formation of tiny drops of water which may dissolve small particles of fondant and cause the fondant to become sticky. When fondant is cold, wrap in waxed paper.
To keep fondant. Fondant may be kept, wrapped in waxed paper, for several weeks in a tightly-covered receptacle in a refrigerator or other cool place. If during storage period it becomes too dry to use, cover it with damp cloth.
More Recipes For You To Enjoy: