This recipe was clipped from a magazine, date unknown but probably the 1950s or 1960s. Recipe is typed below along with a scanned copy.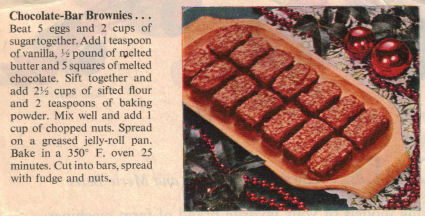 Chocolate-Bar Brownies . . .
Beat 5 eggs and 2 cups of sugar together. Add 1 teaspoon of vanilla, 1/2 pound of melted butter and 5 squares of melted chocolate. Sift together and add 2 1/2 cups of sifted flour and 2 teaspoons of baking powder. Mix well and add 1 cup of chopped nuts. Spread on a greased jelly-roll pan. Bake in a 350° F. oven 25 minutes. Cut into bars, spread with fudge and nuts.
More Recipes For You To Enjoy: