This recipe comes from a promo sheet by Nestle Milk Chocolate Morsels, date unknown. Recipe is typed below along with a scanned copy.
Chocolate Almond Bark
One 11-½-oz. pkg. (2 cups) Nestle Milk Chocolate Morsels
1 measuring tablespoon vegetable shortening
1/2 cup whole almonds
1/2 cup raisins
Combine over hot (not boiling) water, Nestle Milk Chocolate Morsels and shortening. Heat until morsels are melted and mixture is smooth. Remove from heat and stir in almonds and raisins. Spread into a waxed paper-lined 13″ x 9″ x 2″ baking pan.* Chill in refrigerator about 15 minutes; remove and score top with tines of fork to resemble bark. Return to refrigerator and chill until ready to serve, at least 30 minutes. Before serving, break into bite-size pieces.
Makes: 1 lb. candy
*Make waxed paper long enough so that candy can be easily lifted out of the pan.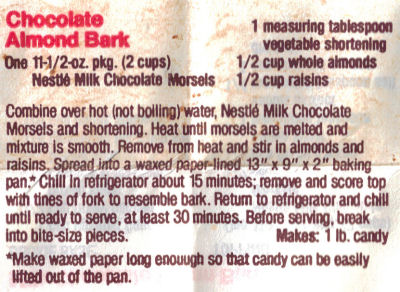 More Recipes For You To Enjoy: