Here are two recipes that were clipped from packaging of some kind, likely a Lucerne dairy product. These were found in a large collection, date unknown. I've typed them both below along with scanned copies.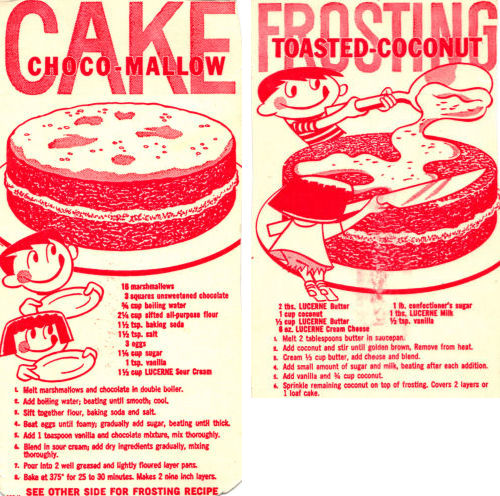 CHOCO-MALLOW CAKE
16 marshmallows
3 squares unsweetened chocolate
3/4 cup boiling water
2 1/4 cup sifted all-purpose flour
1 1/2 tsp. baking soda
1 1/2 tsp. salt
3 eggs
1 1/4 cup sugar
1 tsp. vanilla
1 1/2 cup LUCERNE Sour Cream
Melt marshmallows and chocolate in double boiler.
Add boiling water; beating until smooth; cool.
Sift together flour, baking soda and salt.
Beat eggs until foamy; gradually add sugar, beating until thick.
Add 1 teaspoon vanilla and chocolate mixture, mix thoroughly.
Blend in sour cream; add dry ingredients gradually, mixing thoroughly.
Pour into 2 well greased and lightly floured layer pans.
Bake at 375° for 25 to 30 minutes. Makes 2 nine inch layers.
TOASTED-COCONUT FROSTING
2 tbs. LUCERNE Butter
1 cup coconut
1/3 cup LUCERNE Butter
6 oz. LUCERNE Cream Cheese
1 lb. confectioner's sugar
1 tbs. LUCERNE Milk
1/2 tsp. vanilla
Melt 2 tablespoons butter in saucepan.
Add coconut and stir until golden brown, remove from heat.
Cream 1/3 cup butter, add cheese and blend.
Add small amount of sugar and milk, beating after each addition.
Add vanilla and 3/4 cup coconut.
Sprinkle remaining coconut on top of frosting. Covers 2 layers or 1 loaf cake.
More Recipes For You To Enjoy: