This recipe was written on an index card and found in a large collection, date unknown. Recipe is typed below along with a scanned copy (front side only).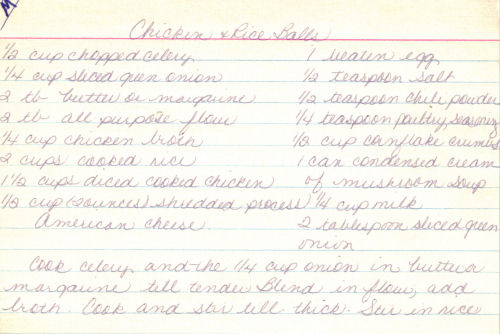 Chicken & Rice Balls
1/2 cup chopped celery
1/4 cup sliced green onion
2 tb butter or margarine
2 tb all purpose flour
1/4 cup chicken broth
2 cups cooked rice
1 1/2 cups diced cooked chicken
1/2 cup (2 ounces) shredded process American cheese
1 beaten egg
1/2 teaspoon salt
1/2 teaspoon chili powder
1/4 teaspoon poultry seasoning
1/2 cup cornflake crumbs
1 can condensed cream of mushroom soup
1/4 cup milk
2 tablespoons sliced green onion
Cook celery and the 1/4 cup onion in butter or margarine till tender. Blend in flour, add broth. Cook and stir till thick. Stir in rice, chicken, cheese, egg, and seasonings. Form into 12 balls; roll in crumbs. Bake in 13x9x2 inch baking pan in 350° oven for 25 to 30 minutes. Heat remaining ingredients. Serve over balls. Makes 4 servings.
More Recipes For You To Enjoy: