This recipe was written on an index card and is signed "Good Luck, Gladie" at the bottom, date unknown. Recipe is typed below along with a scanned copy (of both sides).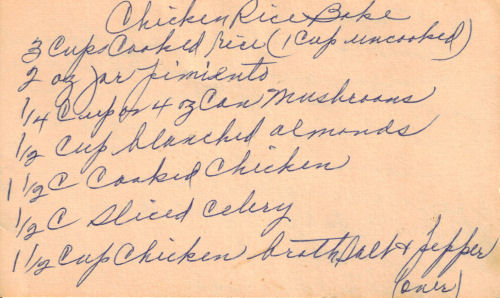 Chicken Rice Bake
3 cups cooked rice (1 cup uncooked)
2 oz jar pimiento
1/4 cup or 4 oz can mushrooms
1/2 cup blanched almonds
1 1/2 c cooked chicken
1/2 c sliced celery
1 1/2 cup chicken broth
salt & pepper
1 1/2 T flour
Heat oven to 350°, saute almonds & mushrooms in the butter. Combine rice & pimiento, place 1/3 in a greased casserole, alternate chicken, celery, mushroom-almond mixture with the remaining rice. Pour over this the broth, pepper & salt blended with the flour. Bake 1 hr.
6 to 8 servings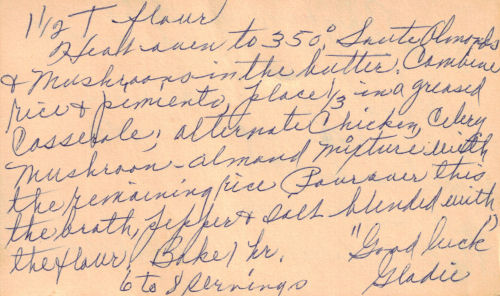 More Recipes For You To Enjoy: