This recipe was written on an index card and found in a large collection, date unknown. Recipe is typed below along with a scanned copy.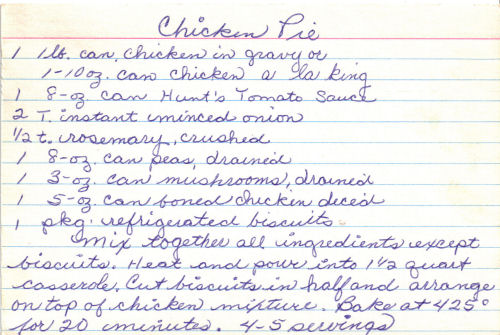 Chicken Pie
1 1 lb. can chicken in gravy or
1 – 10 oz. can chicken a la king
1 8-oz can Hunt's Tomato Sauce
2 T. instant minced onion
1/2 t. rosemary, crushed
1 8-oz. can peas, drained
1 3-oz. can mushrooms, drained
1 5-oz. can boned chicken diced
1 pkg. refrigerated biscuits
Mix together all ingredients except biscuits. Heat and pour into 1 1/2 quart casserole. Cut biscuits in half and arrange on top of chicken mixture. Bake at 425° for 20 minutes. 4-5 servings.
More Recipes For You To Enjoy: