This handwritten recipe card was found in a large collection, date unknown. Recipe is typed below along with a scanned copy (front side only).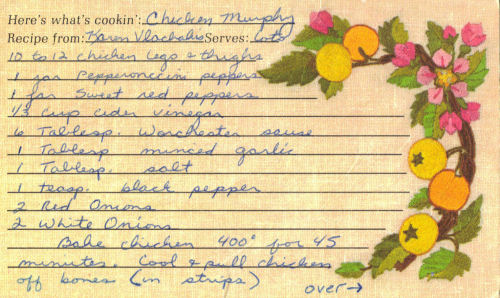 Chicken Murphy
10 to 12 chicken legs & thighs
1 jar Peperoncini peppers
1 jar sweet red peppers
1/3 cup cider vinegar
6 Tablesp. Worchester. sauce
1 Tablesp. minced garlic
1 Tabelsp. salt
1 teasp. black pepper
2 red onions
2 white onions
Bake chicken 400° for 45 minutes. Cool & pull chicken off bones (in strips)
Slice Peperoncini & sweet red peppers.
Slice red & white onions.
Combine – vinegar, worchester sauce, garlic, salt & black pepper
Preheat frying pan or wok with 1/4 inch of oil.
Put chicken in hot oil and stir – add all other ingredients. Cover & cook for 1 hour.
Serve over rice.
Enjoy!!
More Recipes For You To Enjoy: