This recipe comes from a promo recipe sheet by Mazola Oil titled "National Chicken Cooking Contest Winning Recipes". This was found in a large collection, date unknown. Recipe is typed below along with a scanned copy.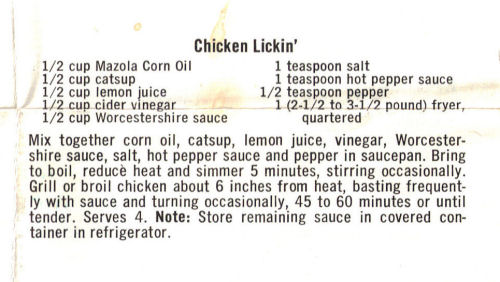 Chicken Lickin'
1/2 cup Mazola Corn Oil
1/2 cup catsup
1/2 cup lemon juice
1/2 cup cider vinegar
1/2 cup Worcestershire sauce
1 teaspoon salt
1 teaspoon hot pepper sauce
1/2 teaspoon pepper
1 (2-1/2 to 3-1/2 pound) fryer, quartered
Mix together corn oil, catsup, lemon juice, vinegar, Worcestershire sauce, salt, hot pepper sauce and pepper in saucepan. Bring to boil, reduce heat and simmer 5 minutes, stirring occasionally. Grill or broil chicken about 6 inches from heat, basting frequently with sauce and turning occasionally, 45 to 60 minutes or until tender. Serves 4. Note: Store remaining sauce in covered container in refrigerator.
More Recipes For You To Enjoy: