This recipe was written on a lined index card and found in a large collection, date unknown. Recipe is typed below along with a scanned copy (front side only).
Chicken Kiev
370° for 8 min.
Skinned & boneless breast of chicken – flattened. Take skin off & cut breast from bone.
Pound these pieces flat on wax paper & covered with wax paper with rolling pin.
For each breast
1 1/2 tsp. margarine
1/4 c. chives, salt & pepper
Fold sides up over the above & roll ends up
Roll in bread crumbs & then beaten egg & milk & back in bread crumbs. Chill 20 min or more & fry.
May be frozen for 2 weeks & thawed in refrig.
Fry in peanut oil
Cook in 370° fat in deep
White rice on plate & place chicken on top.
May be served with mushroom sauce.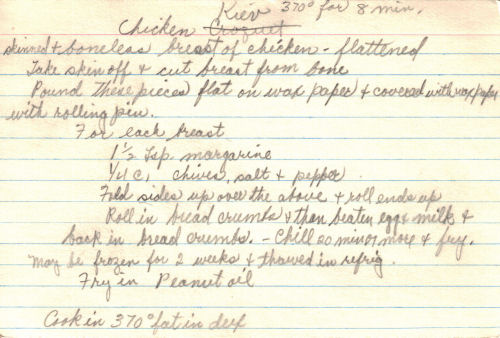 More Recipes For You To Enjoy: