This recipe was clipped from cardboard packaging of some kind, maybe a box of Ritz Crackers since it's one of the ingredients required. Recipe is typed below along with a scanned copy.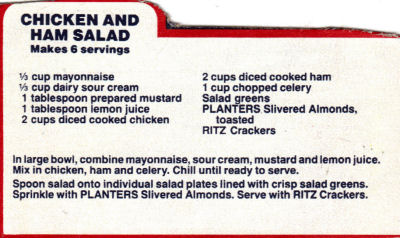 CHICKEN AND HAM SALAD
Makes 6 servings
1/3 cup mayonnaise
1/3 cup dairy sour cream
1 tablespoon prepared mustard
1 tablespoon lemon juice
2 cups diced cooked chicken
2 cups diced cooked ham
1 cup chopped celery
Salad greens
PLANTERS Slivered Almonds, toasted
RITZ Crackers
In large bowl, combine mayonnaise, sour cream, mustard and lemon juice. Mix in chicken, ham and celery. Chill until ready to serve.
Spoon salad onto individual salad plates lined with crisp salad greens. Sprinkle with PLANTERS Slivered Almonds. Serve with RITZ Crackers.
More Recipes For You To Enjoy: