This recipe is from a Pillsbury Idea Recipes sheet and was found in a large collection, date unknown. Recipe is typed below along with a scanned copy.
Chicken combo casserole
Casserole
2 cups cooked chicken or turkey or pork or beef, cut in 1/2-in. cubes
1 cup seasoned bread stuffing cubes
1 can (1 lb.) mixed vegetables, drain reserving liquid
1/4 cup finely chopped onion or
1 tbsp. dried minced onion
2 tbsp. chopped pimiento, if desired
1 tsp. salt
1/4 tsp. pepper
Reserved 3/4 cup liquid (add water if necessary)
3/4 to 1 cup mayonnaise or salad dressing
Topping
3/4 cup Pillsbury's Best All Purpose Flour*
1/2 tsp. salt
1/2 tsp. celery seed
1 cup shredded American or Cheddar cheese
1/4 cup mayonnaise or salad dressing
1/4 cup chopped almonds
OVEN 325°
6 TO 8 SERVINGS
Casserole: Combine all casserole ingredients. Spread in bottom of ungreased 12×8-in. (2 qt.) baking dish. Crumble Topping over meat mixture; sprinkle with almonds. Bake at 325° for 30-35 min. until hot. Broil 3-5 min. until top is golden and bubbly.
Topping: No need to sift flour; measure by lightly spooning into cup and leveling off. Combine flour, salt, seed, cheese and mayonnaise; mix.
*For use with Pillsbury's Best Self-Rising Flour, omit salt in Topping.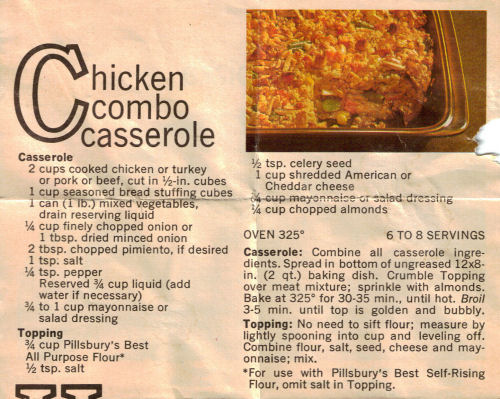 More Recipes For You To Enjoy: