This recipe was written on a large index card and found in a large collection, date unknown. Recipe is typed below along with a scanned copy.
Chicken Cobbler
2 c. diced cooked chicken
1 c. cooked rice
2 c. chicken broth
1/4 c. margarine
1 c. all-purpose flour
2 tsp. baking powder
1 tsp. salt
1 Tbsp. sugar
1 c. milk
Mix first 3 ingredients.
Put margarine in 1 1/2 qt. round casserole and sit in oven 350° until melted.
Meanwhile, mix remaining ingredients.
Pour into casserole.
Spoon chicken mixture into center.
Bake about 50 minutes.
Let stand 5 min.
Serves 4 – 6.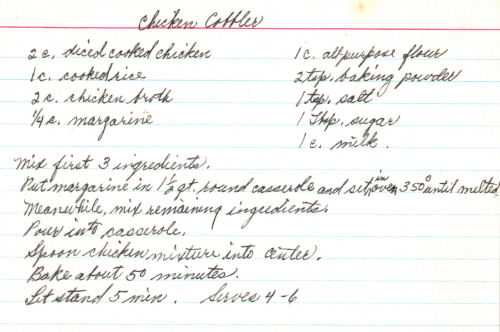 More Recipes For You To Enjoy: