This is a recipe card I found in a box full of old recipes, handwritten. Date unknown. This is typed as-is.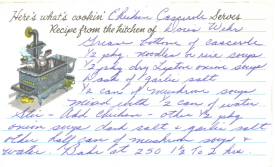 Here's what's cooking Chicken Casserole
Serves
Recipe from the kitchen of Doris Wehr
Grease bottom of casserole
1/2 pkg. Noodles or rice soup
1/2 pkg. dry Lipton onion soup
Dash of garlic salt
1/2 can of mushroom soup mixed with 1/2 can of water
Stir – Add chicken – other 1/2 pkg onion soup dash salt & garlic salt other half can of mushroom soup and water. Bake at 250 1 1/2 to 2 hrs.
More Recipes For You To Enjoy: