This promo recipe from Guy's cashews was clipped from a newspaper and found in a large collection, date unknown. I've typed it below along with a scanned copy.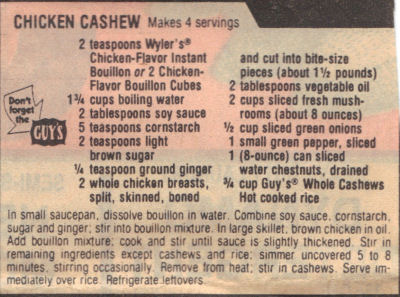 CHICKEN CASHEW
Makes 4 servings
2 teaspoons Wyler's Chicken-Flavor Instant Bouillon or 2 Chicken-Flavor Bouillon Cubes
1 3/4 cups boiling water
2 tablespoons soy sauce
5 teaspoons cornstarch
2 teaspoons light brown sugar
1/4 teaspoon ground ginger
2 whole chicken breasts, split, skinned, boned and cut into bite-size pieces (about 1 1/2 pounds)
2 tablespoons vegetable oil
2 cups sliced fresh mushrooms (about 8 ounces)
1/2 cup sliced green onions
1 small green pepper, sliced
1 (8-ounce) can sliced water chestnuts, drained
3/4 cup Guy's Whole Cashews
Hot cooked rice
In small saucepan, dissolve bouillon in water. Combine soy sauce, cornstarch, sugar and ginger; stir into bouillon mixture. In large skillet, brown chicken in oil. Add bouillon mixture; cook and stir until sauce is slightly thickened. Stir in remaining ingredients except cashews and rice; simmer uncovered 5 to 8 minutes, stirring occasionally. Remove from heat; stir in cashews. Serve immediately over rice. Refrigerate leftovers.
More Recipes For You To Enjoy: