This recipe was clipped from a magazine, date unknown. Recipe is typed below along with a scanned copy.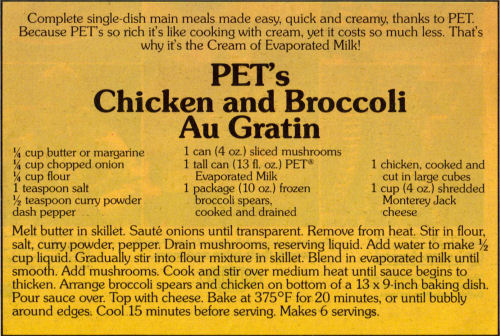 Complete single-dish main meals made easy, quick and creamy, thanks to PET. Because PET's so rich it's like cooking with cream, yet it costs so much less. That's why it's the Cream of Evaporated Milk!
PET's
Chicken and Broccoli Au Gratin
1/4 cup butter or margarine
1/4 cup chopped onion
1/4 cup flour
1 teaspoon salt
1/2 teaspoon curry powder
dash pepper
1 can (4 oz.) sliced mushrooms
1 tall can (13 fl. oz.) PET Evaporated Milk
1 package (10 oz.) frozen broccoli spears, cooked and drained
1 chicken, cooked and cut in large cubes
1 cup (4 oz.) shredded Monterey Jack cheese
Melt butter in skillet. Saute onions until transparent. Remove from heat. Stir in flour, salt, curry powder, pepper. Drain mushrooms, reserving liquid. Add water to make 1/2 cup liquid. Gradually stir into flour mixture in skillet. Blend in evaporated milk until smooth. Add mushrooms. Cook and stir over medium heat until sauce begins to thicken. Arrange broccoli spears and chicken on bottom of a 13 x 9-inch baking dish. Pour sauce over. Top with cheese. Bake at 375°F for 20 minutes, or until bubbly around edges. Cool 15 minutes before serving. Makes 6 servings.
More Recipes For You To Enjoy: