This recipe was clipped from The WORKBASKET magazine and published in 1979. It looks like a promo recipe section for Chex cereals. Recipe is typed below along with a scanned copy (recipe was across two columns so I snipped them together for the scan).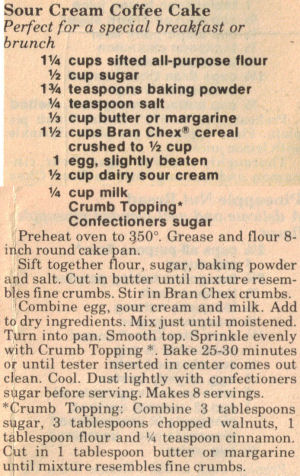 Sour Cream Coffee Cake
Perfect for a special breakfast or brunch
1 1/4 cups sifted all-purpose flour
1/2 cup sugar
1 3/4 teaspoons baking powder
1/4 teaspoon salt
1/3 cup butter or margarine
1 1/2 cups Bran Chex cereal crushed to 1/2 cup
1 egg, slightly beaten
1/2 cup dairy sour cream
1/4 cup milk
Crumb Topping*
Confectioners sugar
Preheat oven to 350°. Grease and flour 8-inch round cake pan.
Sift together flour, sugar, baking powder and salt. Cut in butter until mixture resembles fine crumbs. Stir in Bran Chex crumbs.
Combine egg, sour cream and milk. Add to dry ingredients. Mix just until moistened. Turn into pan. Smooth top. Sprinkle evenly with Crumb Topping*. Bake 25-30 minutes or until tester inserted in center comes out clean. Cool. Dust lightly with confectioners sugar before serving. Makes 8 servings.
*Crumb Topping: Combine 3 tablespoons sugar, 3 tablespoons chopped walnuts, 1 tablespoon flour and 1/4 teaspoon cinnamon. Cut in 1 tablespoon butter or margarine until mixture resembles fine crumbs.
More Recipes For You To Enjoy: