This recipe was published in 1993 by Ralston Purina company and was clipped from a magazine. Recipe is typed below along with a scanned copy. (Includes both microwave and oven methods of making the party mix).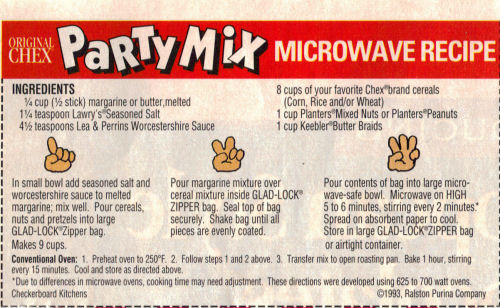 ORIGINAL CHEX
Party Mix
MICROWAVE RECIPE
INGREDIENTS
1/4 cup (1/2 stick) margarine or butter, melted
1 1/2 teaspoon Lawry's Seasoned Salt
4 1/2 teaspoons Lea & Perrins Worcestershire Sauce
8 cups of your favorite Chex brand cereals (Corn, Rice and/or Wheat)
1 cup Planters Mixed Nuts or Planters Peanuts
1 cup Keebler Butter Brains
In small bowl add seasoned salt and worcestershire sauce to melted margarine; mix well. Pour cereals, nuts and pretzels into large GLAD-LOCK Zipper bag. Makes 9 cups.
Pour margarine mixture over cereal mixture inside GLAD-LOCK ZIPPER bag. Seal top of bag securely. Shake bag until all pieces are evenly coated.
Pour contents of bag into large microwave-safe bowl. Microwave on HIGH 5 to 6 minutes, stirring every 2 minutes.* Spread on absorbent paper to cool. Store in large GLAD-LOCK ZIPPER bag or airtight container.
Conventional Oven: 1. Preheat oven to 250°F. 2. Follow steps 1 and 2 above. 3. Transfer mix to open roasting pan. Bake 1 hour, stirring every 15 minutes. Cool and store as directed above.
*Due to differences in microwave ovens, cooking time may need adjustment. These directions were developed using 625 to 700 watt ovens.
More Recipes For You To Enjoy: