This recipe comes from a large collection of clippings ranging in dates from the 1940s through 1980s. It's on heavier paper and appears to be clipped from packaging of some sort. Recipe is typed below along with a scanned copy.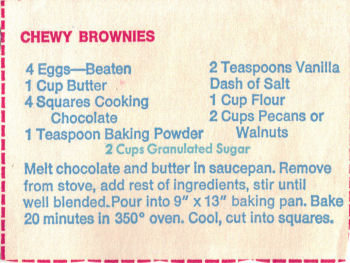 CHEWY BROWNIES
4 Eggs–Beaten
1 Cup Butter
4 Squares Cooking Chocolate
1 Teaspoon Baking Powder
2 Cups Granulated Sugar
2 Teaspoons Vanilla
Dash of Salt
1 Cup Flour
2 Cups Pecans or Walnuts
Melt chocolate and butter in saucepan. Remove from stove, add rest of ingredients, stir until well blended. Pour into 9″ x 13″ baking pan. Bake 20 minutes in 350° oven. Cool, cut into squares.
More Recipes For You To Enjoy: