This recipe was written on a lined index card and found in a large collection, date unknown. I've typed it below (with some adjustments for easier reading) along with a scanned copy (front side only).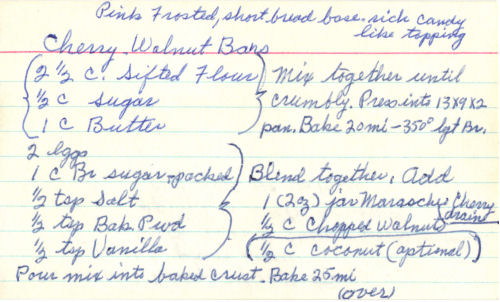 Pink frosted, shortbread base, rich candy like topping
Cherry Walnut Bars
Mix together until crumbly. Press into 13x9x2 pan. Bake 20 min–350° until light brown:
2 1/2 c. sifted flour
1/2 c. sugar
1 c. butter
Blend together:
2 eggs
1 c. br. sugar packed
1/2 tsp salt
1/2 tsp bak. pwd.
1/2 tsp. vanilla
Add:
1 (2 oz) jar maraschino cherries (drained)
1/2 c. chopped walnuts
1/2 c. coconut (optional)—(RecipeCurio note: I believe the coconut is used last as a topping, see below)
Pour mix into baked crust. Bake 25 minutes.
Combine:
1 Tablesp. soften. butter
1 c. pdwr sugar
with enough cherry juice to spread
Sprinkle with coconut. Cut into 48 sm bars.
More Recipes For You To Enjoy: