This recipe was clipped from some sort of mail-out since the back has a bulk postage rate stamp and part of a mailing address printed on it. Date is unknown, recipe is typed below along with a scanned copy.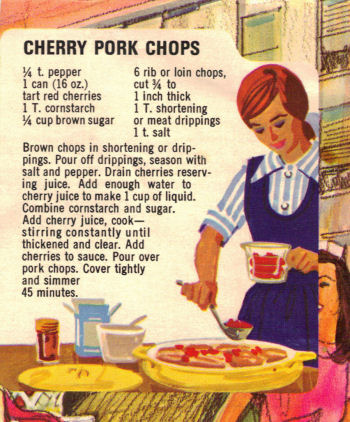 CHERRY PORK CHOPS
1/4 t. pepper
1 can (16 oz.) tart red cherries
1 T. cornstarch
1/4 cup brown sugar
6 rib or loin chops, cut 3/4 to 1 inch thick
1 T. shortening or meat drippings
1 t. salt
Brown chops in shortening or drippings. Pour off drippings, season with salt and pepper. Drain cherries reserving juice. Add enough water to cherry juice to make 1 cup of liquid. Combine cornstarch and sugar. Add cherry juice, cook–stirring constantly until thickened and clear. Add cherries to sauce. Pour over pork chops. Cover tightly and simmer 45 minutes.
More Recipes For You To Enjoy: