This recipe was clipped from a newspaper and found in a large collection, date unknown. Recipe is typed below along with a scanned copy.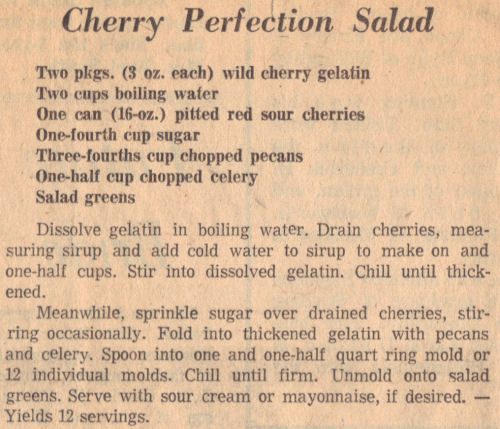 Cherry Perfection Salad
Two pkgs. (3 oz. each) wild cherry gelatin
Two cups boiling water
One can (16-oz.) pitted red sour cherries
One-fourth cup sugar
Three-fourths cup chopped pecans
One-half cup chopped celery
Salad greens
Dissolve gelatin in boiling water. Drain cherries, measuring sirup and add cold water to sirup to make one and one-half cups. Stir into dissolved gelatin. Chill until thickened.
Meanwhile, sprinkle sugar over drained cherries, stirring occasionally. Fold into thickened gelatin with pecans and celery. Spoon into one and one-half quart ring mold or 12 individual molds. Chill until firm. Unmold onto salad greens. Serve with sour cream or mayonnaise, if desired.–Yields 12 servings.
More Recipes For You To Enjoy: