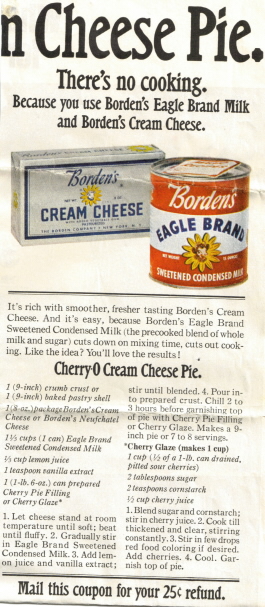 This is a clipping from what looks to be from a full page promo for Borden's cream cheese and condensed milk. The coupon at the bottom expired May 31, 1965 so this is at least 42 years old.
There is part of an ad on the back for a new Scout vehicle priced at $1690.85, it looks similar to a Jeep. Imagine buying a new vehicle today for that price!
The clipping is missing the left half of the page, so the main title only reads "Cream Cheese Pie". The recipe is complete and presented below. I did space the instructions differently so that they would be easier to follow.
There's no cooking.
Because you use Borden's Eagle Brand Milk
and Borden's Cream Cheese.
It's rich with smoother, fresher tasting Borden's Cream Cheese. And it's easy, because Borden's Eagle Brand Sweetened Condensed Milk (the precooked blend of whole milk and sugar) cuts down on mixing time, cuts out cooking. Like the idea? You'll love the results!
Cherry-O Cream Cheese Pie.
1 (9-inch) crumb crust or
1 (9-inch) baked pastry shell
1 (8-oz.) package Borden's Cream Cheese or Borden's Neufchatel Cheese
1 1/3 cups (1 can) Eagle Brand Sweetened Condensed Milk
1/3 cup lemon juice
1 teaspoon vanilla extract
1 (1-lb. 6-oz.) can prepared Cherry Pie Filling or Cherry Glaze*
1. Let cheese stand at room temperature until soft; beat until fluffy.
2. Gradually stir in Eagle Brand Sweetened Condensed Milk.
3. Add lemon juice and vanilla extract; stir until blended.
4. Pour into prepared crust. Chill 2 to 3 hours before garnishing top of pie with Cherry Pie Filling or Cherry Glaze. Makes a 9-inch pie or 7 to 8 servings.
*Cherry Glaze (makes 1 cup)
1 cup (1/2 of a 1-lb. can drained, pitted sour cherries)
2 tablespoons sugar
2 teaspoons cornstarch
1/2 cup cherry juice
1. Blend sugar and cornstarch; stir in cherry juice.
2. Cook till thickened and clear, stirring constantly.
3. Stir in few drops red food coloring if desired. Add cherries.
4. Cool. Garnish top of pie.
Bottom of recipe has a 25 cent refund coupon that I won't include here.
More Recipes For You To Enjoy: