This recipe was clipped from a label, likely a can of Milnot since it's listed as an ingredient (I believe Milnot refers to evaporated milk). Recipe is typed below along with a scanned copy.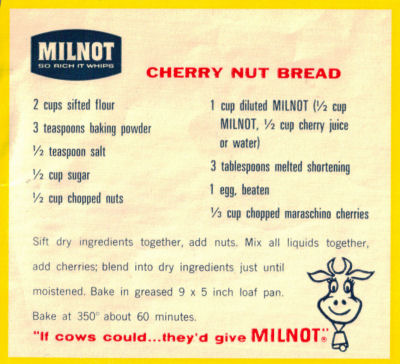 CHERRY NUT BREAD
2 cups sifted flour
3 teaspoons baking powder
1/2 teaspoon salt
1/2 cup sugar
1/2 cup chopped nuts
1 cup diluted MILNOT (1/2 cup MILNOT, 1/2 cup cherry juice or water)
3 tablespoons melted shortening
1 egg, beaten
1/3 cup chopped maraschino cherries
Sift dry ingredients together, add nuts. Mix all liquids together, add cherries; blend into dry ingredients just until moistened. Bake in greased 9 x 5 inch loaf pan. Bake at 350° about 60 minutes.
"If cows could…they'd give MILNOT"
More Recipes For You To Enjoy: