This recipe was clipped from a newspaper, date unknown. Recipe is typed below along with a scanned copy.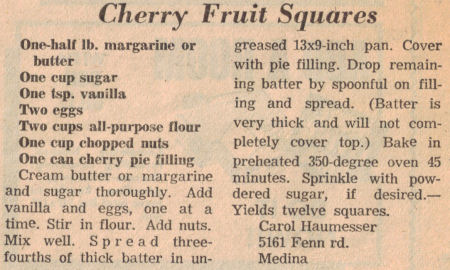 Cherry Fruit Squares
One-half lb. margarine or butter
One cup sugar
One tsp. vanilla
Two eggs
Two cups all-purpose flour
One cup chopped nuts
One can cherry pie filling
Cream butter or margarine and sugar thoroughly. Add vanilla and eggs, one at a time. Stir in flour. Add nuts. Mix well. Spread three-fourths of thick batter in ungreased 13×9-inch pan. Cover with pie filling. Drop remaining batter by spoonful on filling and spread. (Batter is very thick and will not completely cover top.) Bake in preheated 350-degree oven 45 minutes. Sprinkle with powdered sugar, if desired.–Yields twelve squares.
More Recipes For You To Enjoy: