These two promo recipes from Keebler and Johnston's pie crusts were clipped from labels and found in a large collection, date unknown. They're basically the same recipe (using different ready-made pie crusts), though there is a slight difference in the amount of sweetened condensed milk. I've typed both below along with scans of the clippings.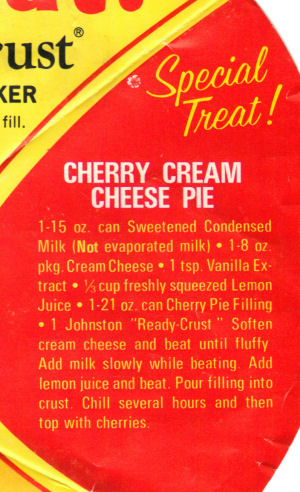 CHERRY CREAM CHEESE PIE
1 – 15 oz. can Sweetened Condensed Milk (Not evaporated milk)
1 – 8 oz. pkg. Cream Cheese
1 tsp. Vanilla Extract
1/3 cup freshly squeezed Lemon Juice
1-21 oz. can Cherry Pie Filling
1 Johnston "Ready-Crust"
Soften cream cheese and beat until fluffy. Add milk slowly while beating. Add lemon juice and beat. Pour filling into crust. Chill several hours and then top with cherries.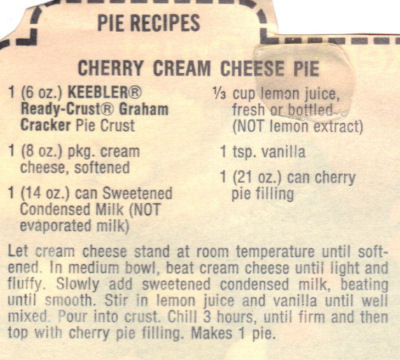 CHERRY CREAM CHEESE PIE
1 (6 oz.) KEEBLER Ready-Crust Graham Cracker Pie Crust
1 (8 oz.) pkg. cream cheese, softened
1 (14 oz.) can Sweetened Condensed Milk (NOT evaporated milk)
1/3 cup lemon juice, fresh or bottled (NOT lemon extract)
1 tsp. vanilla
1 (21 oz.) can cherry pie filling
Let cream cheese stand at room temperature until softened. In medium bowl, beat cream cheese until light and fluffy. Slowly add sweetened condensed milk, beating until smooth. Stir in lemon juice and vanilla until well mixed. Pour into crust. Chill 3 hours, until firm and then top with cherry pie filling. Makes 1 pie.
More Recipes For You To Enjoy: