This promo recipe from Ready-Crust pie crust was found in a large collection, date unknown. I've typed it below along with a scanned copy.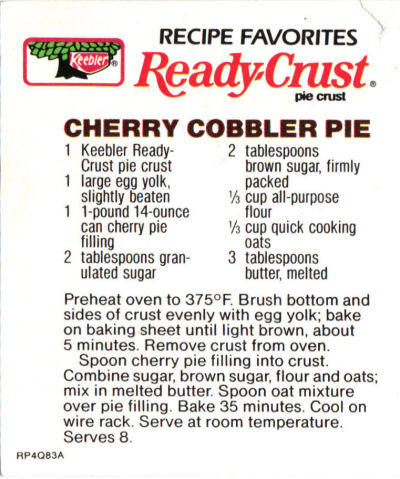 CHERRY COBBLER PIE
1 Keebler Ready-Crust pie crust
1 large egg yolk, slightly beaten
1 1-pound 14-ounce can cherry pie filling
2 tablespoons granulated sugar
2 tablespoons brown sugar, firmly packed
1/3 cup all-purpose flour
1/3 cup quick cooking oats
3 tablespoons butter, melted
Preheat oven to 375°F. Brush bottom and sides of crust evenly with egg yolk; bake on baking sheet until light brown, about 5 minutes. Remove crust from oven.
Spoon cherry pie filling into crust.
Combine sugar, brown sugar, flour and oats; mix in melted butter. Spoon oat mixture over pie filling. Bake 35 minutes. Cool on wire rack. Serve at room temperature. Serves 8.
More Recipes For You To Enjoy: