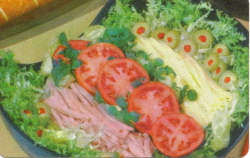 This is from a set of vintage recipe cards dated 1961 and distributed by Lestoil's Convenience Products, Holyoke, Mass. The card measures 2 1/4″ x 3 1/2″ (approx).
Chef's Salad
Series 1
No. 18
Set of 42
1 head chicory
1 bunch watercress
1/4 lb. boiled ham
1/4 lb. Swiss cheese
3 tomatoes
8 large stuffed olives
Salt and pepper
French dressing
Break greens into bite-sized pieces; put into salad bowl. Cut ham and cheese into long, thin strips; slice tomatoes and olives. Arrange over greens. Sprinkle with salt and pepper to taste. Serve with dressing. Makes 6 to 8 servings.
LESTOIL'S Convenience Products
Holyoke, Mass.
c. 1961 Tested Recipe Institute, Inc., 500 Fifth Ave., New York 36
More Recipes For You To Enjoy: