This recipe was written on a lined index card and found in a large collection, date unknown. I've typed it below along with a scanned copy.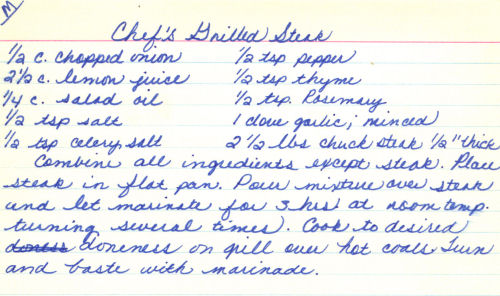 Chef's Grilled Steak
1/2 c. chopped onion
2 1/2 c. lemon juice
1/4 c. salad oil
1/2 tsp salt
1/2 tsp celery salt
1/2 tsp pepper
1/2 tsp thyme
1/2 tsp Rosemary
1 clove garlic; minced
2 1/2 lbs chuck steak 1/2″ thick
Combine all ingredients except steak. Place steak in flat pan. Pour mixture over steak and let marinate for 3 hrs at room temp. turning several times. Cook to desired doneness on grill over hot coals. Turn and baste with marinade.
More Recipes For You To Enjoy: