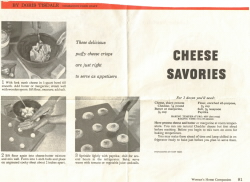 Magazine clipping from Woman's Home Companion, date on back is December 1952.
BY DORIS TISDALE
COMPANION FOOD STAFF
Woman's Home Companion
December 1952
These delicious puffy cheese crisps are just right to serve as appetizers
CHEESE SAVORIES
For 2 dozen you'll need:
Cheese, sharp process Cheddar, 1/4 pound
Butter or margarine, 1/4 cup
Flour, enriched all-purpose, 1/2 cup
Salt, 1/8 teaspoon
Paprika
BAKING TEMPERATURE: 450° (hot oven)
BAKING TIME: 8 to 10 minutes
Have process cheese and butter or margarine at room temperature. You can use natural Cheddar cheese but first shred before mashing. Before you begin to mix turn on oven for baking temperature.
You may make these ahead of time and keep chilled in refrigerator ready to bake just before you plan to serve them.
With fork mash cheese in 1-quart bowl till smooth. Add butter or margarine; cream well with wooden spoon. Sift flour, measure; add salt.
Sift flour again into cheese-butter mixture and mix well. Form into 1-inch balls and place on ungreased cooky sheet about 2 inches apart.
Sprinkle lightly with paprika; chill for several hours in the refrigerator. Bake; serve warm with tomato or vegetable juice cocktails.
More Recipes For You To Enjoy: