This recipe comes from a promo slip from Nestle, date unknown. Recipe is typed below along with a scanned copy.
Cheese Crunchers
One 6-oz. pkg. (1 cup) Nestle Butterscotch Morsels
3 measuring tablespoons butter
1 cup graham cracker crumbs
1 cup chopped nuts
One 8-oz. pkg. cream cheese, softened
1/4 cup sugar
2 eggs
2 measuring tablespoons flour
1 measuring tablespoon lemon juice
Preheat oven to 350°F. Combine over hot (not boiling) water, Nestle Butterscotch Morsels and butter; heat until melted and smooth. Stir in graham cracker crumbs and nuts with a fork until mixture forms coarse crumbs. Reserve 1 cup crumb mixture for topping. Press remaining mixture into a 9″ square baking pan. BAKE at: 350°F. TIME: 12 minutes.
In large bowl, combine cream cheese and sugar; beat until creamy. Add eggs, one at a time, beating well after each addition. Blend in flour and lemon juice. Pour evenly over hot baked crust. Sprinkle top with reserved crumb mixture. BAKE at: 350°F. TIME: 25 minutes. Cool completely; cut into 2 1/4″ x 1″ bars. Refrigerate any leftover cookies. Makes thirty six 2 1/4″ x 1″ bars.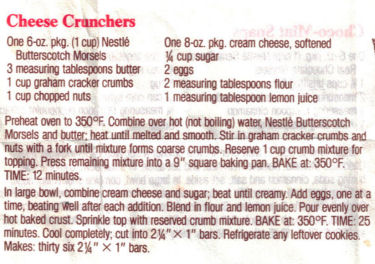 More Recipes For You To Enjoy: