Here's a nice article clipped from a newspaper about making homemade relishes just like Grandma did. It mentions three different recipes but the clipping only has two (the other recipe must have been on another page that wasn't clipped). There's no date anywhere but the back has an advertisement for ladies bras–on sale for only $3.99–(regularly $5.50). Any ideas for a date? I've typed out the article below as well as included a scan (you can click it to view a larger copy).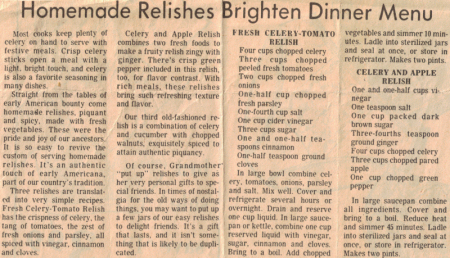 Homemade Relishes Brighten Dinner Menu
Most cooks keep plenty of celery on hand to serve with festive meals. Crisp celery sticks open a meal with a light, bright touch, and celery is also a favorite seasoning in many dishes.
Straight from the tables of early American bounty come homemade relishes, piquant and spicy, made with fresh vegetables. These were the pride and joy of our ancestors. It is so easy to revive the custom of serving homemade relishes. It's an authentic touch of early Americana, part of our country's tradition.
Three relishes are translated into very simple recipes. Fresh Celery-Tomato Relish has the crispness of celery, the tang of tomatoes, the zest of fresh onions and parsley, all spiced with vinegar, cinnamon and cloves.
Celery and Apple Relish combines two fresh foods to make a fruity relish zingy with ginger. There's crisp green pepper included in this relish, too, for flavor contrast. With rich meals, these relishes bring such refreshing texture and flavor.
Our third old-fashioned relish is a combination of celery and cucumber with chopped walnuts (not included), exquisitely spiced to attain authentic piquancy.
Of course, Grandmother "put up" relishes to give as her very personal gifts to special friends. In times of nostalgia for the old ways of doing things, you may want to put up a few jars of our easy relishes to delight friends. It's a gift that lasts, and it isn't something that is likely to be duplicated.
FRESH CELERY-TOMATO RELISH
Four cups chopped celery
Three cups chopped peeled fresh tomatoes
Two cups chopped fresh onions
One-half cup chopped fresh parsley
One-fourth cup salt
One cup cider vinegar
Three cups sugar
One and one-half teaspoons cinnamon
One-half teaspoon ground cloves
In large bowl combine celery, tomatoes, onions, parsley and salt. Mix well. Cover and refrigerate several hours or overnight. Drain and reserve one cup liquid. In large saucepan or kettle, combine one cup reserved liquid with vinegar, sugar, cinnamon and cloves. Bring to a boil. Add chopped vegetables and simmer 10 minutes. Ladle into sterilized jars and seal at once, or store in refrigerator. Makes two pints.
CELERY AND APPLE RELISH
One and one-half cups vinegar
One teaspoon salt
One cup packed dark brown sugar
Three-fourths teaspoon ground ginger
Four cups chopped celery
Three cups chopped pared apple
One cup chopped green pepper
In large saucepan combine all ingredients. Cover and bring to a boil. Reduce heat and simmer 45 minutes. Ladle into sterilized jars and seal at once, or store in refrigerator. Makes two pints.
More Recipes For You To Enjoy: