This handwritten recipe card was found in a large collection, date unknown. I've typed it out below along with a scanned copy.
Celery Dish
Sauce Pan:
Melt 2 Tbsp. butter — saute 2 Tbsps. chopped onion. When onion is tender add the following: (Except last 3 items)
2 Tbsps. flour
1 tsp. dill weed
1/4 tsp. salt
1/4 tsp. dry mustard
1/8 tsp pepper
1 cup milk
1/2 c. grated cheese or Cheddar Cheese Soup
3 cup cooked celery pieces – 1 in.
1/3 cup chopped peanuts
2 Tbsps chopped pimento
Cook until cheese is melted, then add last 3 ingredients.
Ref. covered (if you wish)
1 qt. greased casserole.
Top with 1/4 c. fine dry bread crumbs and 2 Tbsps. butter.
Bake at 350°F. oven for 20-30 minutes.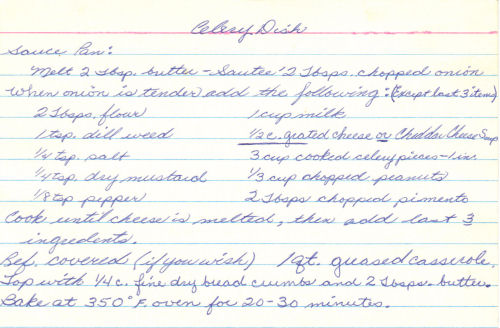 More Recipes For You To Enjoy: