This recipe was clipped from an old magazine and found in a large collection, date unknown. I've typed it below along with a scanned copy.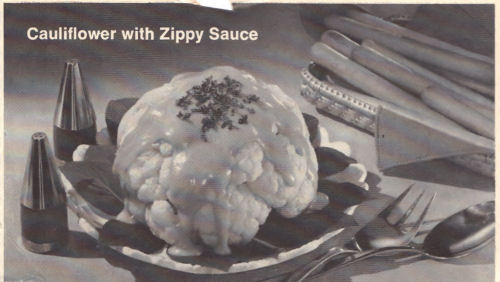 Cauliflower with Zippy Sauce
(Makes 6 to 8 servings)
One of the oldest vegetables known to man, cauliflower is the artistocrat of the cabbage family. You'll see why when you serve it with this zingy sauce.
2-pound head cauliflower
2 tablespoons butter or margarine
2 tablespoons flour
1/2 teaspoon salt
Dash pepper
1 1/4 cups milk
1 tablespoon prepared mustard
1 teaspoon horseradish
1 teaspoon worcestershire sauce
1 tablespoon snipped parsley
Remove leaves and stalk from cauliflower. Cook, covered, in large amount of boiling salted water 15 to 20 minutes or till tender; drain. Melt butter, blend in flour and seasonings. Add milk all at once and cook, stirring constantly, till thickened. Stir in mustard, horseradish, worcestershire sauce, and parsley. Serve sauce over cauliflower.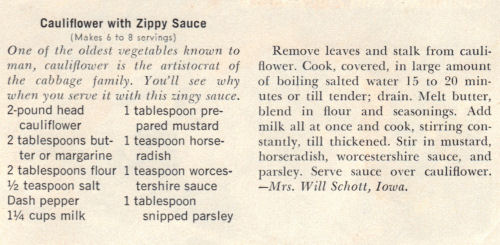 More Recipes For You To Enjoy: