This recipe was clipped from a newspaper, date unknown but I believe this is Jimmy Carter's recipe that was published when he was running for president (late 1970's). There is a note at the bottom of the recipe that states "You can call this the candidate's crunch". Jimmy Carter was well associated with peanuts since his background involved peanut farming in Georgia. Recipe is typed below along with a scanned copy.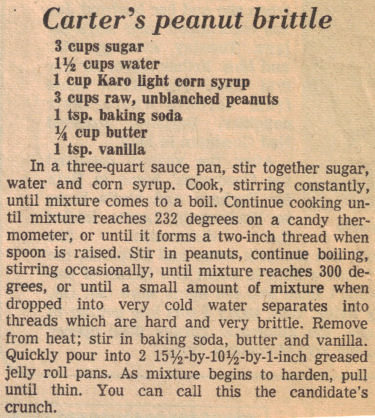 Carter's Peanut Brittle
3 cups sugar
1 1/2 cups water
1 cup Karo light corn syrup
3 cups raw, unblanched peanuts
1 tsp. baking soda
1/4 cup butter
1 tsp. vanilla
In a three-quart sauce pan, stir together sugar, water and corn syrup. Cook, stirring constantly, until mixture comes to a boil. Continue cooking until mixture reaches 232 degrees on a candy thermometer, or until it forms a two-inch thread when spoon is raised. Stir in peanuts, continue boiling, stirring occasionally, until mixture reaches 300 degrees, or until a small amount of mixture when dropped into very cold water separates into threads which are hard and very brittle. Remove from heat; stir in baking soda, butter and vanilla. Quickly pour into 2 15½-by-10½-by-1-inch greased jelly roll pans. As mixture begins to harden, pull until thin. You can call this the candidate's crunch.
More Recipes For You To Enjoy: