This recipe was clipped from a newspaper, date unknown. Recipe is typed below along with a scanned copy.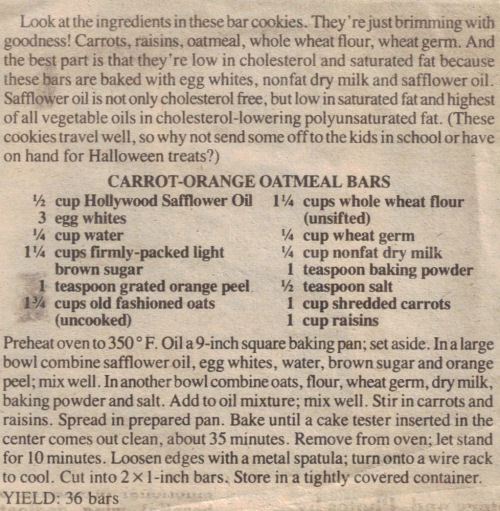 Look at the ingredients in these bar cookies. They're just brimming with goodness! Carrots, raisins, oatmeal, whole wheat flour, wheat germ. And the best part is that they're low in cholesterol and saturated fat because these bars are baked with egg whites, nonfat dry milk and safflower oil. Safflower oil is not only cholesterol free, but low in saturated fat and highest of all vegetable oils in cholesterol-lowering polyunsaturated fat. (These cookies travel well, so why not send some off to the kids in school or have on hand for Halloween treats?)
CARROT-ORANGE OATMEAL BARS
1/2 cup Hollywood Safflower Oil
3 egg whites
1/4 cup water
1 1/4 cups firmly-packed light brown sugar
1 teaspoon grated orange peel
1 3/4 cups old fashioned oats (uncooked)
1 1/4 cups whole wheat flour (unsifted)
1/4 cup wheat germ
1/4 cup nonfat dry milk
1 teaspoon baking powder
1/2 teaspoon salt
1 cup shredded carrots
1 cup raisins
Preheat oven to 350°F. Oil a 9-inch square baking pan; set aside. In a large bowl combine safflower oil, egg whites, water, brown sugar and orange peel; mix well. In another bowl combine oats, flour, wheat germ, dry milk, baking powder and salt. Add to oil mixture; mix well. Stir in carrots and raisins. Spread in prepared pan. Bake until a cake tester inserted in the center comes out clean, about 35 minutes. Remove from oven; let stand for 10 minutes. Loosen edges with a metal spatula; turn onto a wire rack to cool. Cut into 2 x 1-inch bars. Store in a tightly covered container.
YIELD: 36 bars
More Recipes For You To Enjoy: