This recipe was typed onto an index card and found in a large collection, date unknown. Recipe is typed below along with a scanned copy.
CARAMEL PECAN ROLL
2 1/2 pounds
2 c. sugar
2 c. crystal white corn sirup
1/2 c. table fat
2 c. evaporated milk
1 t. vanilla
1/8 t. salt
1 1/2 c. nut halves
Mix sugar and sirup in saucepan. Boil slowly, stirring, until firm ball forms in icy-cold water.
Add fat and milk to carmel sirup. Stir in vanilla and salt.
Pour caramel sirup into shallow pan without scraping saucepan. Cool.
Arrange nut halves, flat side up, on waxed paper. Lift caramel out of pan and place on top of nuts.
Roll candy as for jelly roll.
Chill until firm; slice 1/4-inch-thick pieces and wrap each.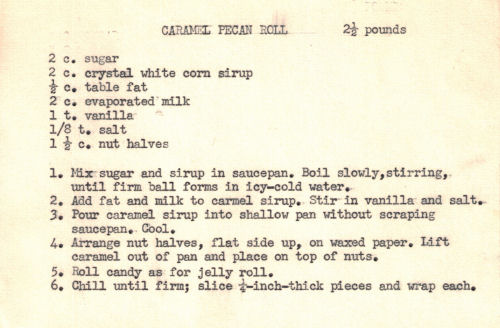 More Recipes For You To Enjoy: