This handwritten recipe is from a large recipe collection, date unknown. Recipe is typed below along with a scanned copy.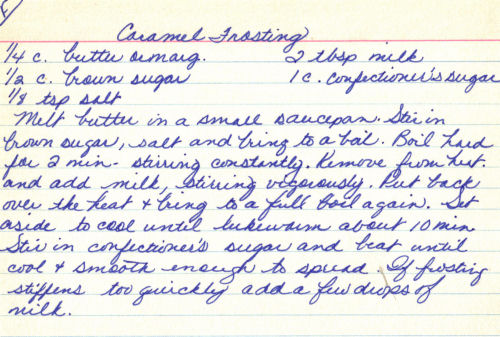 Caramel Frosting
1/4 c. butter or marg.
1/2 c. brown sugar
1/8 tsp salt
2 tbsp milk
1 c. confectioner's sugar
Melt butter in a small saucepan. Stir in brown sugar, salt and bring to a boil. Boil lard for 2 min. stirring constantly. Remove from heat. and add milk, stirring vigorously. Put back over the heat & bring to a full boil again. Set aside to cool until lukewarm about 10 min. Stir in confectioner's sugar and beat until cool & smooth enough to spread. If frosting stiffens too quickly add a few drops of milk.
More Recipes For You To Enjoy: