This recipe was typed on an index card and found in a large collection, date unknown. Recipe is typed below along with a scanned copy (a few typos were corrected).
CARAMEL APPLES
2 c. sugar
1 c. sifted brown sugar
2/3 c. light corn sirup
2/3 table fat
1 c. cream or evaporated milk
1/2 t. salt
2 t. vanilla
8 to 10 medium apples
1/2 c. chopped nuts or coconut
Mix sugars, sirup, fat, cream and salt in 2-qt. saucepan. Cook, stirring until firm balls form in icy-cold water.
Remove sirup from heat; cool until slightly thickened. Add vanilla and stir.
Place wooden stick in stem end of each apple and dip apple into caramel sirup.
Drain apples on waxed paper, roll in chopped nuts.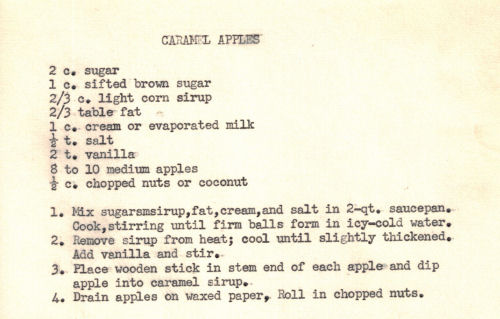 More Recipes For You To Enjoy: