This recipe was clipped from a newspaper and found in a large collection, date unknown. I've typed it below along with a scanned copy.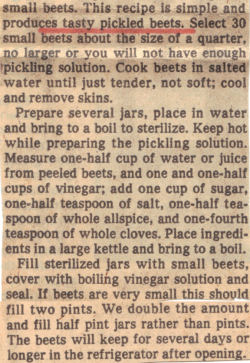 This recipe is simple and produces tasty pickled beets. Select 30 small beets about the size of a quarter, no larger or you will not have enough pickling solution. Cook beets in salted water until just tender, not soft; cool and remove skins.
Prepare several jars, place in water and bring to a boil to sterilize. Keep hot while preparing the pickling solution. Measure one-half cup of water or juice from peeled beets, and one and one-half cups of vinegar; add one cup of sugar, one-half teaspoon of salt, one-half teaspoon of whole allspice, and one-fourth teaspoon of whole cloves. Place ingredients in a large kettle and bring to a boil.
Fill sterilized jars with small beets, cover with boiling vinegar solution and seal. If beets are very small this should fill two pints. We double the amount and fill half pint jars rather than pints. The beets will keep for several days or longer in the refrigerator after opening.
Please read the Safe Canning & Food Preservation section if planning on canning this recipe.
More Recipes For You To Enjoy: