This recipe was clipped from a newspaper and found in a large collection, date unknown. I've typed it below along with a scanned copy.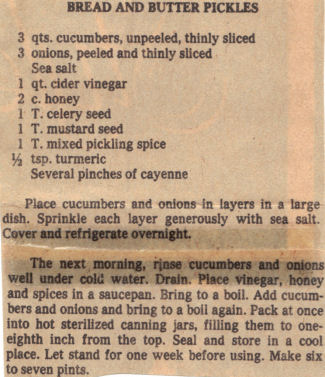 BREAD AND BUTTER PICKLES
3 qts. cucumbers, unpeeled, thinly sliced
3 onions, peeled and thinly sliced
Sea salt
1 qt. cider vinegar
2 c. honey
1 T. celery seed
1 T. mustard seed
1 T. mixed pickling spice
1/2 tsp. turmeric
Several pinches of cayenne
Place cucumbers and onions in layers in a large dish. Sprinkle each layer generously with sea salt. Cover and refrigerate overnight.
The next morning, rinse cucumbers and onions well under cold water. Drain. Place vinegar, honey and spices in a saucepan. Bring to a boil. Add cucumbers and onions and bring to a boil again. Pack at once into hot sterilized canning jars, filling them to one-eighth inch from the top. Seal and store in a cool place. Let stand for one week before using. Makes six to seven pints.
Please read the Safe Canning & Food Preservation section if planning on canning this recipe.
More Recipes For You To Enjoy: