This recipe was clipped from a newspaper and found in a large collection, date unknown. I've typed it below along with a scanned copy.
CHILI SAUCE
12 to 14 pounds ripe tomatoes
1 pound celery
1 quart small onions
3 green peppers
1/2 tablespoon ground cloves
1 tablespoon dry mustard
2 sticks cinnamon
2 pounds brown sugar
1/4 cup salt
1 quart vinegar
Scald and peel tomatoes; cook 15 minutes. Drain off half the juice. Chop celery, onions, and peppers; add tomatoes and simmer about 1 1/2 hours. Tie spices in cloth bag; add with remaining ingredients to tomato mixture; continue cooking 1 1/2 hours, or until vegetables are soft. Remove spices; seal in hot, sterilized jars. Yield: 6 pints.
Before using this recipe, it's important to read this page, the "Safe Canning & Food Preservation" section.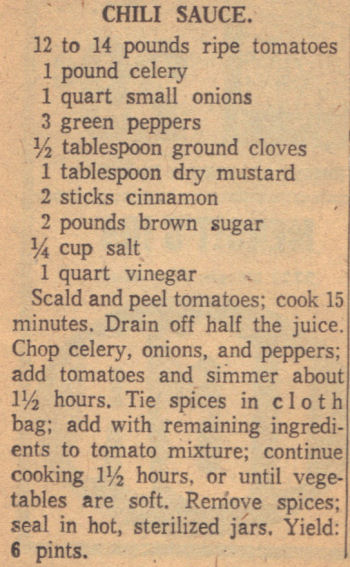 More Recipes For You To Enjoy: