This recipe clipping comes from a large lot of old recipe clippings for pickles, jams, jellies, relishes and more. Date is unknown but the recipes in this lot suggest 1940s through to the 1960s. Recipe is typed below as-is.
Before using this recipe, it's important to read this page, the "Safe Canning & Food Preservation" section.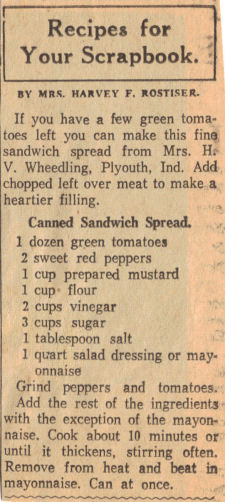 Recipes for Your Scrapbook.
By Mrs. Harvey F. Rostiser.
If you have a few green tomatoes left you can make this fine sandwich spread from Mrs. H. V. Wheedling, Plymouth, Ind. Add chopped left over meat to make a heartier filling.
Canned Sandwich Spread.
1 dozen green tomatoes
2 sweet red peppers
1 cup prepared mustard
1 cup flour
2 cups vinegar
3 cups sugar
1 tablespoon salt
1 quart salad dressing or mayonnaise
Grind peppers and tomatoes. Add the rest of the ingredients with the exception of the mayonnaise. Cook about 10 minutes or until it thickens, stirring often. Remove from heat and beat in mayonnaise. Can at once.
More Recipes For You To Enjoy: