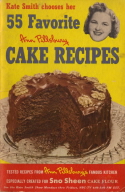 Here are pages 60, 61, 62, 63, and 64 from the vintage cookbook "Kate Smith chooses her 55 Favorite Ann Pillsbury CAKE RECIPES". Pages 63 and 64 are just the index so only the scan is provided below. There's also a scan of the inside back cover and the back cover. This cookbook was published in 1952 by Pillsbury Mills, Inc. Kate Smith was a popular singer and radio personality with a career that began in the 1930s.
You can view all the pages in this cookbook by visiting this category: 55 Favorite Cake Recipes: Kate Smith, just click a page title to view that section. There are scans of the pages included below, you can click the image to view a larger copy.
Cake Ingredients and How To Measure
Flour–Always sift flour once before measuring, then spoon flour lightly into cup and level top by scraping with edge of spatula. Never pack flour in cup.
Sugar–If sugar is lumpy, sift before measuring. Brown sugar may be pressed through a coarse sieve and measured by packing firmly in cup. Store brown sugar in the bread box or keep half an apple or slice of fresh bread in the brown sugar can to keep it moist. Confectioners' sugar should always be sifted before measuring.
Shortening–Be sure to use high-quality shortening. Shortening may be measured in two ways. It may be packed firmly into cup or spoon measures and leveled by scraping with edge of spatula. Shortening may also be measured by the water displacement method. For instance–to measure 1/2 cup shortening, fill a measuring cup to the 1/2 cup level with water. Add shortening until the water level reaches the 1 cup mark, then pour off water.
Salt–The most accurate measuring and the highest-quality ingredients cannot assure satisfying flavor without salt.
Liquids–all liquids should be at room temperature when used unless otherwise specified in the recipe. A glass measuring cup marked off in quarters and thirds is useful for measuring liquids. For accurate measurements, read at eye level.
Buttermilk and sour milk may be used interchangeably. If sour milk is not available, add 1 tablespoon lemon juice or vinegar to 1 cup sweet milk; let stand 5 minutes.
Eggs–Because eggs vary in size, it is advisable to use cup measurements for yolks or whites when recipes require four or more eggs. Eggs beat much better if allowed to stand at room temperature several hours before they are used.
Baking Powder–There are two common types of baking powders: double-acting and single-acting. Double-acting–or SAS-phosphate–is in more general use. It yields a small amount of its gas when combined with liquid and the remainder when the batter is exposed to heat. Single-acting–or tartrate–reacts when liquid is added, and the gas expands when heated.
The recipes in this book call for double-acting baking powder unless otherwise specified. If you use single-acting baking powder, substitute 1 1/2 teaspoons for each teaspoon of double-acting listed in recipe.
Soda–it is generally advisable to sift soda with the dry ingredients.
Chocolate–Always melt chocolate over hot water–in a pan, bowl, or on a piece of aluminum foil. Cool before using. It is not necessary to cut chocolate into small pieces before melting.
Cocoa–When substituting cocoa for chocolate, use 1/4 cup cocoa plus 2 teaspoons shortening for each ounce (1 square) of chocolate.
Dates, Raisins, and Other Dried Fruits–Cut dates and other sticky fruits with wet or greased scissors.
Nuts–Chopping: Nuts may be chopped by cutting with a long knife on a cutting board, using a chopping bowl and chopper, a mechanical nut chopper, or crushing with a rolling pin.
Nuts–Blanching: To blanch nuts, cover with boiling water and let stand until skins wrinkle–about 3 minutes. Drain and plunge into cold water. Rub with fingers or the dull side of knife to remove the skins.
Nuts–Toasting: To toast nuts, spread in shallow pan with a small amount of butter or shortening. Place under broiler for a few minutes to brown, stirring occasionally.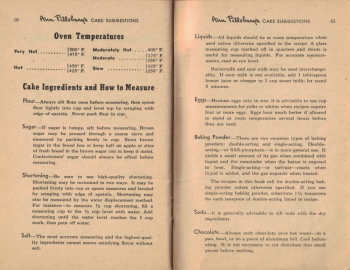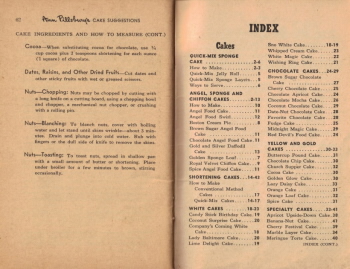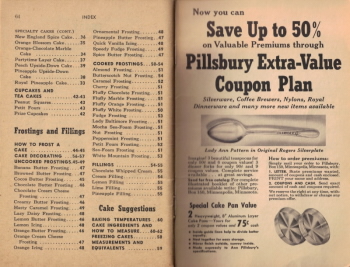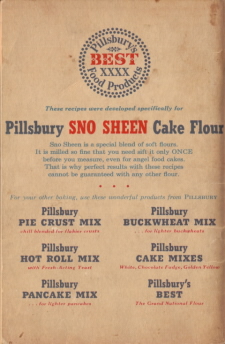 More Recipes For You To Enjoy: